Description
*Experience Sports Fishing Orientation*
Do you want to travel in a Sports Fishing Speed Boat into the Ocean with an experienced skipper in a safe environment, learn angling and do fishing yourself?
Not many know that Chennai coast is also an Angler's paradise. A beautiful coastline, reefs and sudden ocean contour drop-offs makes it home to a variety of fishes and an ideal Game Fishing and Boating destination. We bring you the exciting Sports Fishing experience.
Sports fishing is an exciting hobby for many. We facilitate 1 or 2 hours Sports Fishing on the Bay of Bengal with all safety processes and accessories. You need not bring anything. We will provide all Fishing accessories and orientation.
Join our Sports Fishing Trip.
Why should you join?
To learn angling and fishing
To know more about ocean fishing
What do you get?
1 or 2 hours of Fishing as per plan chosen
Orientation to do angling and fishing in the safe environment
If you are lucky, you catch some good fish and take it home
Experience the Chennai Port setting with rustic and gigantic ships with some ocean stories
View of Chennai from the sea.
Previous Trip Album: https://photos.app.goo.gl/k3DsDH8rwy7iTFVMA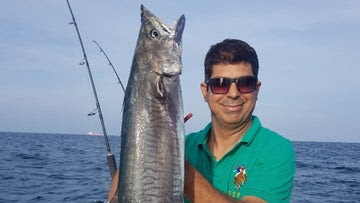 Price
Rs. 14000 Per Boat upto 5 participants for 1 hour Fishing
Rs. 22000 Per Boat upto 5 participants for 2 hours Fishing
Cost includes Skipper fee, Boat Fuel, Boat Men, Fishing Gear, Harbour Passes, Guest Fee, On board water and soft drinks, French Fries, and Cheese Chilli Toast or Egg Sandwich
Pay 100% to register, Payment methods: www.keyterns.com/paynow
Notes-
Trip is operated only if there are 5 Persons. 100% advance is required. If you are individual(s), we will wait till getting 5 persons. If we are unable to conduct the trip, 100% money will be refunded.  If there are 5 already, we will keep you waitlisted and allocate you in the next available trip.  – Fishing depends on wind and weather conditions. If wind / weather is not favourable, we may reschedule the trip.
For a private trip exclusively for you and friends / family, refer to https://keyterns.com/package/sportsfishing/
Please whatsapp / text / call +917550042234 for booking and refer to all events page – https://keyterns.com/events/list/ to know about all upcoming trips. We also provide water themed experiences such as Sailing, Parasailing, etc.
Team KeyTerns.
#SportsFishing, #FishingOrientation, #SeaOrientation, #Angling, #Fishing