A vacation will do a world of good to revive and rejuvenate! Given the situation, it can still be accomplished by visiting a well hygiene and less crowded place. We are providing below some hotels and resorts for your reference in select Cities and Hill Stations. There could be more for your choice and budget – click here to get more.
Chennai / ECR / Mahabalipuram
Known for its historical establishments, Mahabalipuram near Chennai, also has breathtaking beachside and outskirt leisure resorts. 
Experiences near location
Heritage –
Must see places near Mahabalipuram, UNESCO World Heritage site, are: Shore temple, Pancha Rathas, Tiger Caves, Centuries old Lighthouse.
more..
Nature and Adventure
– Paramotoring
Spiritual and Wellness
– Shiva temple 
Providing below some resorts / hotels for your information.
Radisson Blu Resort Temple Bay Mamallapuram (also called as Mahabalipuram), TN , India
Steps from the enticing shores of the Bay of Bengal, the Radisson Blu Resort Temple Bay Mamallapuram creates an oasis for families seeking relaxation and looking for fun. The award-winning resort spans across 44 acres of lush landscaped gardens offering unparalleled views of the Bay of Bengal. 
Highlight of amenities include Pool view / Sea view rooms and suites apart from standard rooms, two global cuisine restaurants with waterfront view, 27000 sq foot meandering outdoor pool, Spa, fitness centre, ATV rides, Scuba diving, Archery, Indoor games, Boat adventures and Canoeing.
---
Taj Fisherman's Cove Resort & Spa, Chennai, India:
Built on the ramparts of an old Dutch Fort, Fisherman's Cove now rides a fresh new wave with the stylishly spirited Taj brand of hospitality. Revel in seaside hospitality with rooms, cottages and villas, all designed for relaxation and rejuvenation, set amidst lush manicured landscaping with breathtaking views of the sea. 
Dining by the sea at the seafood specialty restaurant Bayview is an experience in itself. At Upper Deck, the bistro style menu, the vibrant all-day dining restaurant overlooking the pool and Seagull serves multi-cuisine delights is a bliss. The sunken Sunburst Bar at the poolside is a great place to spend a lazy afternoon, lounging in the pool. The bespoke dining experiences at Taj Fisherman's Cove extend to private dining at your own Watch Tower, where meals are customised for your occasion. Located near this charming beach resort, is the beautiful temple town of Mamallapuram. 
---
Chennai / Sriperumbudur
Experiences near location 
Heritage –
Chokhi Dhani Cultural Theme Park
Nature and Adventure
– Queensland Amusement, Chembarambakkam Lake
Spiritual and Wellness
– Sriperumbudur Temple
Pleasant Days Resorts  and  Queensland Theme Park, Chennai, TN 
Standing true to its name, Pleasant Days lures you into an exotic panorama of 18 acres of breathtaking space with 123 state­-of­-the-­art, luxurious rooms and suites.The tastefully designed and decorated interiors caresses contemporary and classic styles with élan, urging you to take a moment to admire the architecture.
Pleasant Days draws you into a grand and lavishing swimming pool, multi-cuisine restaurant, coffee shop, world class bakery, fitness centre, business centre, gaming arenas that include courts for volleyball, cricket, badminton as well as indoor games such as carom and chess. Situated next to Queensland theme park, is an additional advantage, as it is a  great entertainment for adults and kids. Their waterfalls and wavepool are remarkable.
---
Thanjavur, TN, India
The rich art and culture of Thanjavur reflects the traditional legacy and ancestral heritage of the ancient times that has percolated to the modern era. The prosperous agrarian city was ruled by various dynasties like Cholas , Pandyas , Vijayanagaras, Madurai Nayaks, Thanjavur Nayaks, Marathas and the British Colonists . Most of the UNESCO World Heritage Monuments, great Living Chola temples are located in and around Thanjavur. The unique Tanjore comprises classical Carnatic music, the exquisite paintings, cultural events, religious festivals and exotic cuisines. 
Experiences near location 
Heritage – Brihadeeswarar temple, Dharasuram and Gangaikonda Cholapuram (3

UNESCO World Heritage Sit

es),

Saraswati Mahal Library, Schwartz Church, Maratha Palace
Nature and Adventure

–

Sivaganga Park
Spiritual and Wellness
– Several worship places
Svatma Heritage Hotel, Thanjavur, India
Set in the idyllic village of Asikkadu is the holistic wellness, Svatma Ramnivas Mayavaram. It is an oasis of calm surrounded by lush greenery and organic farms.  The SVATMA experience is designed as a voyage of discovery of the mind indulging in the luxury of leisure, dabbling with the arts, in a beautiful home environment.
Highlight on the stay experience are Carnatic concerts, Tanjavur Paintings, Bronze sculpting, Vedic chanting, Culinary trip, tour with an expert to visit the ancient monuments and a session on  handloom weaving.  The restaurant Aaharam is an all-day fine food restaurant with a traditional display kitchen that overlooks the pool.It has a unique menu – an exploration of Tamil cuisine available a la carte in an exclusive bouquet of plated mini meals. Ideal for health conscious foodies wanting to explore the flavours of the region and the ingredients are organic. The hotel spaces are envisioned in a manner most unique to private rooms within a large elegant family home. There are verandas, hallways, lounges and spaces to congregate for the sociable and nooks, bowers and secluded corners for those wanting to retreat. Book now..
---
Ooty, TN, India
Ooty, the Queen of Hill stations, is a popular hill station located in the Nilgiri Hills. It welcomes you with mesmerising meadows, soothing environment, cool weather and a wide array of sightseeing places to visit and admire.
Experiences near location 
Heritage –
Nilgiris Mountain Rail, Stone House, Thoda hut, St. Stephen's Church
Nature and Adventure
– Avalanche & Ooty Lakes, Botanical Garden, Doddabetta Peak, Mudumalai National Park, Wenlock Downs Ooty, Pykara Lake Boating
Spiritual and Wellness
– Worship places in and around Ooty
Kurumba Village Resort – Nature Resorts, Nilgiris, Ooty, India
A lush space, a refuge for the senses where the land is nurtured and life-affirming moments happen all the time. This is a place of unspoilt, luxurious, off-trail which is in sync with nature.  The resort, wrapped in a haze of green, sprawling earthy and natural  meandering pathways leads to the tribal-style cottages and suites all crafted with natural materials, with creature comforts in place.  The resort has been built artfully in a 10-acre former spice plantation, sculpted into a hill which gives us the pleasure of inhaling the heady aroma of nutmeg, pepper and cloves naturally.  
Highlight of the amenities include a number of Indoor and Outdoor activities. To name a few Indoor activities are a game of pool, smashing a ping-pong ball, striking chips across a carrom board, enjoying board games with kids, Dart boards, pin balls, flower making. Outdoor activities include Guided Spice Trail, Balloon Activity, Tale of Paws, Molding Imagination, Scavenger hunting, trekking, badminton. Magic shows, karakattam, bon fire are to name a few extra activities. Food fantasies can be indulged by dining in a Tree top, within a cave, along a poolside and relaxing in a hammock with a mocktail. Book now..
---
Savoy – IHCL SeleQtions, Ooty, India
A landmark in the misty hills of Ooty since 1829, the Savoy is a slice of time in vintage gold.The hotel is in full bloom all year, with over 150 varieties of flowers, fragrant pine and eucalyptus trees. Every space is steeped in history.Fresh mountain air infused with nostalgia, historic charm and the refinement of the colonial era; an enchanting vacation at the Savoy promises a opportunity to travel back in time,  and much more.
Each of the 40 rooms and cottages spread across six acres has a vintage fireplace.Present day guests can relive memories of that golden age over afternoon tea, bonfires, lush spa treatments, signature Anglo Indian dishes and the unexplored 400-year-old Badaga cuisine, exclusive to the Nilgiris. Few exclusive experience includes, Tea mixology (Guests learn to blend the spirits and tea as a cocktail and mocktails), Vintage letter writing, The savoy high tea(a mid-day meal invented by a hungry duchess in 1840).
---
Pondicherry, TN, India
Away from the hustle and bustle of big cities, Puducherry is a quiet little town on the southern coast of India. The unmistakable French connection, the tree lined boulevards, the quaint colonial heritage buildings, the spiritual sceneries, the endless stretches of unspoilt beaches and backwaters and a surprising choice of restaurants serving a melange of cuisines provide a heady mix of experience that draws travellers from near and far to the city. It is the perfect place to take the pace of life down a few notches. The colonial buildings, some of which date back to the 18th century, stretch along a grid of clean straight streets which house French institutions, Hotels, Guest Houses, Restaurants, Boutiques and private homes, including the sprawling premises of the famous Sri Aurobindo Ashram. Visitors to this area are greeted by mellow hues of cream, yellow, pink and grey compound walls interspersed by flamboyant bougainvillea bursting over gates and walls of courtyards.
Experiences near location 
Heritage –
Foyer Du Soldat, French consulate, Alliance Française de Pondichéry, Lecafe are few interesting heritage buildings
Nature and Adventure
–
Promenade
Beach
,, Paradise
Beach, Bharathy Park where Life of Pi Zoo Shots were taken, Ousteri lake, Scuba Diving
Spiritual and Wellness
– Churches, Auroville Matrimandir – meditation hall, Aurobindo Ashram, 
La Villa Hotel, Pondicherry India
La Villa Hotel is a 19th century mansion, in a heritage style in the centre of french quarters. The spacious and cool rooms are veiled in precious fabrics and furnished with contemporary designs made from old wood. A custom- made swimming pool borders the shady, lush garden. 
Highlights of the amenities includes a custom- made swimming pool borders the shady, lush garden. An innovative, seasonal French cuisine based on local products. A relaxing Indian oil massage can be organised in the suite. Complimentary private mini bar with one refilling per day are add ons.
---
Palais De Mahe – CGH Earth Pondicherry, India 
Palais de Mahe resembles a French Mansion complete with cool, airy high ceilings, traditional roof beams, arched doorways and colonnades, and ochre yellow wall flourishes.It lies close to the seaside promenade, barely 50 metres from the cool breezes and gentle rumblings of the Bay of Bengal. This signature hotel – with its majestic courtyard, deep verandahs, attractive pillars and period furniture – combines south Indian fire and flavor with French intensity and fervor to bring you an experience that is in every way unforgettable.
Facilities offered in the hotel include courtyard pool, wide range of herbal massages and therapies  to relax and a cocktail bar, that has an architecture defining the cusp of classic and contemporary.Les Alizes', the restaurant has a beautiful view of the locale that can be enjoyed with the variety and freshness of the meal. 
---
Le Pondy – Beach and Lake Resort,Pondicherry, India
Le Pondy, situated at Pondicherry is a premium leisure resort beautifully lounged at an estuary between Chunnambar River and the Bay of Bengal.It  celebrates Pondy in all its true sense – the spirit, the architecture and the revelry. Spread across 14 acres,  it offers 70 rooms including 8 presidential pool villas, 8 luxury pool villas, 12 sea facing rooms and 42 lake facing rooms. Exquisitely furnished and sprinkled with luxury and convenience.
Le Pondy offers exceptional dining experience at a variety of settings. One can chose culinary delights from its open multi-cuisine restaurant, poolside bar, bar overlooking the sea or private dining gazebo. It offers a wide range of facilities like  Large Swimming Pool with multiple sections, Ayurveda Centre & Spa,  Large Poolside Party Area, Library,  Activity lounge,  Bar, Health Club and Private Beach.
---
Club Mahindra Puducherry, Pondicherry, India
The property is lavishly spread across 24 acres of lovely sea-facing land.  The usage of Titanium Oxide in the building construction, glass coverage in the buildings and tropical Dry green forest surrounding the premises making it a eco-friendly property.
The resort's studio apartments are a charming mixture of modern and old-world aesthetics with comfortable amenities and beautiful views of the gardens. One can choose to relax in the comfortable rooms of  resort, wander around the property to soak up the atmosphere, lounge on the beach on a breezy evening, indulge in thrilling activities such as zipping away on an ATV for an adrenaline rush, engage in fun games such as bull ride, bungee jumping, beach volleyball, paintball and archery for a quality family time, satiate your taste buds with the delectable cuisines and delicacies served at the resort's restaurants. Book now..
---
Kodaikanal, TN, India
Popularly known as the princes of Hill Stations, Kodaikanal stands 7200 feet above sea level and situated in upper palani hills of the western ghats. The cool and misty weather, the scenic beauty of the rolling hills and the wooded forest of Kodaikanal and its surroundings will mesmerize throughout the year. A walk through the wooded forests, row in the lake, bath in one of the splashing waterfalls, horse riding and cycling around the lake or simply admirable  views.
Experiences near location 
Heritage
–
La Saleth Church,
Christ the King Church,
Lutheran Church
Nature and Adventure
– Kodai lake, Green Valley, Pillar Rocks, Thalaiyar Falls, Coakers Walk, Cycling around the Lake, Boating in lake, Berijam Lake 
Spiritual and Wellness
–
Worship places
The Tamara Kodai, Kodaikanal, India
Set high in the hills of Kodaikanal, The Tamara Kodai provides a luxury, heritage experience. More than 2,000 meters (6,500 ft) above sea level is a picturesque luxury Kodaikanal hotel dating back to the 1840s.
It offers Luxury suite/Superior luxury suite/Neelakurinji stay with a mesmerising view of the hills. Bistro 1845 is a French style à la carte bistro and bar, serving the best of European, Asian and Indian cuisine. With cozy settings both indoors and outdoors, this vintage-themed resto-bar is sure to take you back in time. La Providence restaurant is set to put out a lavish buffet including everything from international favourites to traditional and local Indian cuisine. The restaurant also features a live kitchen counter to provide fresh, piping hot food. 5 fully equipped massages room, 40ft deep swimming pool,  bonfire / fireplaces are few experiences in the resort. Overlooked by the able staff, kids can draw, play and occupy themselves in the safety of The Tamara Kodai's creche. Book now..
---
Carlton Hotel, Kodaikanal, India
Carlton hotel is a paradise beside a lake amidst virgin hills.  It is an epitome of beauty, serenity and colonial charm. Set on the banks of the shimmering Kodaikanal Lake. The terrace gardens of the hotel overlook the glimmering expanse of the Kodaikanal Lake, enhancing the pleasure of the  lavish stay.
The Carlton has a swanky Club House overlooking the shimmering Kodaikanal Lake. The clubhouse is the centre of entertainment and has activities for every age group. Few activities to be mentioned are, Boat Club, Kids Play area, Spa, Jacuzzi, Air Hockey, Pool Table, Foosball, Badminton, Hammocks on lawns, Cycling, Horse Riding(Outdoor Facilities), Trekking/Picnics (Outdoor Facilities).
---
Rameshwaram, TN, India 
Rameshwaram is a small sacred island connected to mainland India by Pamban bridge.  The island is spread across an area of 61.8 km2 (23.9 sq mi) and is in the shape of a conch. It is considered to be one of the holiest places in India to Hindus, and part of the Char Dham pilgrimage. A visit to the pilgrimage shrine also equally offers a delight to the scenic beauty of the island. The beach of Rameswaram is featured with no waves at all – the sea waves rise to a maximum height of 3 cm (0.10 ft) and the view looks like a very big river.
Experiences near location 
Heritage
–
Ramanathaswamy Temple, Dhanushkodi, Uthirakosamangai temple (is mentioned in scripts as "Man Mundhiyo Mangai mundhiyo)
Nature and Adventure
–
Kurusadai island,
Snorkeling, Jet Ski, Kayaking, Stand up Board, WindSurfing, Banana Ride
Spiritual and Wellness
–
Agnitheertham, Panchamukhi Hanuman Temple / Five-face Hanuman Temple
Cabana Coral Reef, Rameswaram, India
Coral Reef is located on a lovely beach in the Gulf of Mannar, at Mandapam. It is an eco-friendly property that has been built completely by recycling and reusing and hence the cabanas (a hut, cabin, or shelter at a beach) is built by refurbishing used cargo containers and the shower beach shower room with mineral water.  It is a perfect destination for weary city dwellers to relax, rejuvenate.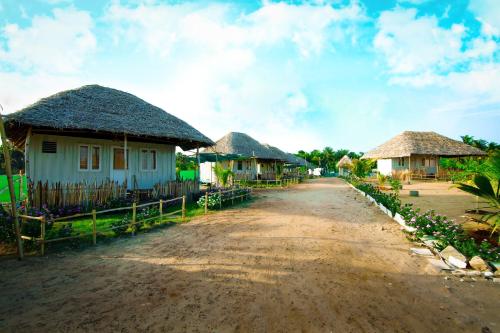 It offers various fun and relaxing water sports and activities to make the seaside holiday complete. Few activities to mention are   Snorkeling,  Kayaking, Fishing, and beach picnic.
---
Hyatt Place Rameswaram, Rameswaram, India
Located in the heart of Rameshwaram, at Hyatt Place Rameswaram, comfort and convenience can be enjoyed with just a few steps from Ramanathaswamy Temple and Agnitheertham. 
The spacious rooms with modern design come with a Cozy Corner to get all comfy in. The vegetarian only restaurant serves a variety of wake up breakfast and buffet / a la carte of lunch and dinner  that serves North Indian, Asian, Continental and South Indian cuisine.  The Market offers a selection of freshly prepared and perfectly packaged salads and sandwiches. A grab'n go selection of retail items includes chips, chocolates, canned juices, aerated drinks and tempting cakes. 
---
Notes
Free cancellation – as Lockdown is not fully lifted and Hotels / Resorts are not fully opened in all places, it is recommended that you book 'free cancellation' policy properties

Listed properties are given by Blogger after considering the reviews and the post Covid 19 hygiene requirements

This blog contains some affiliate links. As an affiliate, we receive compensation if you purchase through these links, at no extra cost to you. 
Click the image to search for the dates availability and to book.
---
Sparsa
 Resort Thiruvanamalai
If you prefer 100% Vegetarian, 'No Alcohol' & 'No smoking', eco friendly spiritual themed, heritage-inspired Luxury resort in a divine and serene place, you should choose Sparsa in Tiruvannamalai, a holy town popular for Lord Shiva temple and for the Bhagavan Sri Ramana Maharshi.
Rooms offering a direct view of the sacred Mount Arunachala, located closer to Ramanasramam.
Its a best place for Spiritual – Wellness rejuvenation with Spa, yoga and meditation that help nourish the mind and soul, as well as recreational activities like pottery making, kili josiyam, bullock cart ride, traditional board games, indoor games, etc.
Satvam, multi-cuisine restaurant has an extensive menu that includes the best of international and Indian vegetarian cuisine.
---
---
About us: KeyTerns is a Comfort, Budget, Expert Curated, Corporates and Students travel designer and an organiser in Nature – Adventure, Heritage – Culture and Spiritual – Wellness themes.
Air Tickets and Hotel Booking – https://keyterns.com/agoda/
Our any date customisable Package trips: https://keyterns.com/packages
Our upcoming fixed date group Trips: https://keyterns.com/events/list
Inspired by: KeyTerns derives its name from the super bird "Arctic Tern" that travels from the Arctic to Antarctica covering around 90,000 km per year. In its lifetime, it travels 24 Lacs KM, which is equivalent to 3 times travelling to the Moon and coming back.