A vacation will do a world of good to revive and rejuvenate! Given the situation, it can still be accomplished by visiting a well hygiene and less crowded place. 
Bangalore
Situated at 3,113 feet above sea level, on top of a ridge in the Karnataka plateau, it is known as Garden city for its abundant gardens and park. A stroll around the lush green park and garden, indulge in the view of refreshing lakes and a leisure  stay for a weekend will satiate the mind. Would you like to just drive down on the outskirt of Bengaluru? Consider below Experiences. We have given map links against each place. We have also given you shared list of all places in map – If the place is closed, map may indicate "Temporarily Closed". Also, please confirm with alternate ways and go.  
Experiences near location 
Heritage – Bengaluru Fort, Bengaluru Palace, Tipu Sultan's Palace, Devanahalli Fort, Lepakshi Temple (

Package

), Somathpura Temple, Bhoga Nandeeshwara Temple – Near Nandi hills (

Package

), Yoga Nandeeshwara Temple on the Nandi Hills, Melukote temple (appeared in movies), Talakkad Sri Vaidhyanatheshwara Temple,
Nature and Adventure
– Lal Bagh Botanical Garden, Nandi Hills Sunrise Viewpoint, Nandi Hills Sunset Viewpoint, Bannerghatta National Park, Kanakapura Adventure (

Package

), Trek to Makalidurga,
Kadu Winery, Innovative Film City, Devarayanadurga Hills, Shivanasamudra Waterfalls, Talakadu Cauvery Basin Picnic Spot, 
Ranganathittu Bird Sanctuary
Spiritual and Wellness – Rangasthala, Shivoham Shiva Temple, Sri Kalyana Venkateshwara Temple – Mathikere, Sri Lakshmi Narayana Temple Hosaholalu, Thondanur or Thonnur Nambi Narayana Temple, Devarayanadurga Hills, Mulbagal temple, Shivagange Temple – hill top – water stream
We are providing below some hotels and resorts for your reference. There could be more for your choice and budget – click here to get more.
---
Angana The Courtyard, Bangalore, Bangalore, India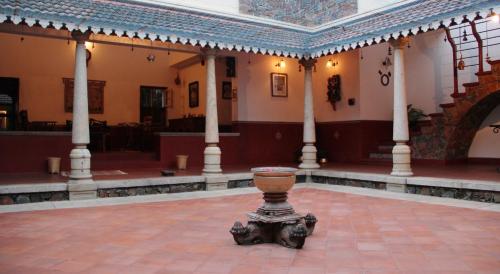 Avani is focused on offering travellers the opportunity to experience a complete journey in outstandingly beautiful spaces in a comfort where sincere luxury is determined in the quality. At Avani, luxury in simplicity, eco Friendly practices, revival of local culture and cuisine, spaces are clean and green. Each property is characterized by minimalist architecture that is designed to complement the retreat's natural and cultural setting.
Inside the ancestral home there are six rooms and two independent spacious cottages. Each cottage has a private garden connecting the main bedroom and the bathroom.  The cuisine at Angana is essentially Indian  with fresh vegetables grown at the nearby farm   to prepare wholesome, nourishing meals. Recreation facilities include a swimming pool, openair shuttle, basketball court, table tennis , and traditional oil massage. 
---
The Leela, Bangalore, Karnataka
Step into a world of opulence and grandeur at one of the finest 5 star hotels in Bengaluru. The tastefully furnished elegant suites, the holistic spa and wellness centre, and some of the finest gastronomic destinations in the city make for a stay that is as royal as it is luxurious. A combination of the finest amenities and a palatial setting true to the Vijayanagara empire  ensures a royal experience at this grand hotel.
Highlight of amenities 284 Deluxe/Conservatory/Royal Premiere Rooms, 44 Royal Club Rooms that includes dedicated Butler and access to Royal Club Lounge and amenities, 29 Suites including 2 Way Airport Transfers, dedicated Butler and access to Royal Club Lounge and amenities. Royal Club Rooms includes light afternoon snack, traditional english high tea and cocktails between 6.00 pm and 9.00 pm, liqueurs, cordials and chocolates from 9.30 pm to 11.30 pm, privileged access to the cigar Lounge and the Billiards Room on the 6th floor. Few in house experience includes baking class, mixology session, cooking class.
---
Our Native Village Resort, Bangalore, India
Our Native Village, an Eco resort near Bangalore Airport, is an endeavour to recreate this closeness for the people living in cities or for those who yearn to relive the blissful simplicity of their childhood days. It maintains a 100% eco-friendly approach based on the five basic pillars of environmental conservation – earthly architecture, nutritious food, energy, water conservation and proper waste management.
Experience life on a farm at the village resort, meet the pets and bring yours along. The niraamaya Spa draws from natural therapeutic traditions across the world to reinvigorate, rejuvenate and restore your body, mind and soul. Take a break from the busy life to tread a winding path along farmland, relish a jump into a swimming pool or go wild playing traditional Indian games like gilli-danda, lagori, spinning tops and flying kites. Few more exciting outdoor fun like Paragliding, ATV rides to night camps are provided. All that outdoor fun is bound to work up an appetite and our in-house restaurant is the perfect place for you to indulge in some authentic Karnataka cuisines.
---
The Windflower Prakruthi – Bangalore Resort, Bangalore, India
Wake up to the chirping mynahs and sparrows. Tuck into a delectable breakfast spread. Stretch out on the terrace with your favourite book. The hotel offers fantastic facilities, including fitness center, outdoor pool, spa, billiards, garden, to help you unwind after an action-packed day in the city. 
Amenities include accommodation of studio / suite / villa. The chefs and staff can whip up custom platters, candlelit dinners and fun-food for kids. The award-winning spa from The Windflower, brings together more than 20 different treatments to pamper and rejuvenate. Indulge your adventurous spirit at the 8 level rope challenge course, the paintball field, zorbing and all terrain quad biking.
---
Mango Mist, Bannerghatta Road 
A visit to the Mango Mist will revive one's golden memories of Indian childhood spent in the Mango fields amidst the early mist filled with mischief, joy, fear of unknown excitement , adventure and sweet aroma of the mangoes blended in the fragrance of the wet mud. Pass on these stories to the child and beloved ones to taste this sweet intoxication in their life. Going ECO, it uses renewable solar energy and recycled water for gardening. Also the chefs use organic vegetables and fruits sourced from local farmers and markets. 
A variety of cottages to experience the overnight stay, an adventurous camp night stay, with great BBQ, warming up by the campfire are highlights of the Mango Mist. Cocktail with DJ in the mist, is an accompaniment.
---
Clarks Exotica Convention, Resort & Spa, Bangalore, India
At Clarks, luxury is a given and being different is celebrated. Strolling over the acres of sprawling greenery that lovingly meets the horizon is a bliss.   It is a premier  five star destination for every celebration, spread across acres of greenery, clarks has world class amenities.
Step into a magical world and indulge in luxurious rooms and suites designed for comfort and enjoy a moment of tranquility with loved ones. Rejuvenate by a refreshing swim savored with a cool beverage, an energising workout in the open and hours of fun and games. Immerse in a scrumptious spread and bond over different delicacies at Ambrosia restaurant. Experience a slice of heaven with spa massages and therapies that not just relax the body but also rejuvenate the soul.
---
Wonderla Resort, Bangalore, India
A resort along with an amusement park is an ideal place to have extended fun! The Wonderla Amusement Park is right in the backyard of the resort. Revel in the fun and relax under the sun in one of the finest resorts in Bengaluru. The top-notch hospitality and services are sure to make you feel at home.
Stay in one of the well-furnished executive / deluxe rooms / suite, which has a refined decor and pleasant ambience.  The restaurant, Woods pays careful attention to both vegetarian and non-vegetarian guests and offers a delectable spread of delicious foods. Its menu is inspired by distinctive popular dishes from across the country. The cool and refreshing ambience of Red Ice',  a swish resto-o-bar,  serves a wide range of drinks and concoction. Recreational room, Kids activity room, Outdoor games like badminton, cricket, volleyball are few facilities provided in the resort.
---
ITC Gardenia, a Luxury Collection Hotel, Bengaluru, Bangalore, India
Built as a tribute to the beautiful city of Bengaluru, the hotel takes its inspiration from the magnificent gardens of the city. An abode for the indulgent and the aspirational, a sublime confluence of the city's unhurried past and it's dynamic present,  ITC Gardenia  embodies the splendours of nature.
Equipped with 292 nature embracing luxury rooms with 13 Luxury Suites and the regal Presidential Suite – the Peacock Suite, it offers the leisure traveller the best in Hospitality and Hotel services.  It offers five dining destinations, four cuisines and one bar. From the delicious great curries of the country served along with the most delicate kebabs in the land at Kebabs & Kurries and the delectable Italian cuisine at Ottimo, to the exquisite cuisine of Japan in the lively ambience and award winning Edo – Japanese Bar and Restaurant. Amenities include Signature Royal spa, professionally designed Salon Di Wills, Swimming pools and well-equipped high-tech Gym.
---
Notes
Free cancellation – as Lockdown is not fully lifted and Hotels / Resorts are not fully opened in all places, it is recommended that you book 'free cancellation' policy properties

Listed properties are given by Blogger after considering the reviews and the post Covid 19 hygiene requirements

This blog contains some affiliate links. As an affiliate, we receive compensation if you purchase through these links, at no extra cost to you. 
Click the image to search for the dates availability and to book.
---
---
About us: KeyTerns is an Adventure, Expert Curated and Leisure thematic travel designer and an organiser for individuals, corporates and students in Nature – Offbeat, Heritage – Culture and Spiritual – Wellness themes.
Our any date customisable Package trips: https://keyterns.com/packages
Our upcoming fixed date group Trips: https://keyterns.com/events/list
Inspired by: KeyTerns derives its name from the super bird "Arctic Tern" that travels from the Arctic to Antarctica covering around 90,000 km per year. In its lifetime, it travels 24 Lacs KM, which is equivalent to 3 times travelling to the Moon and coming back.
---
#Luxury, #Resorts, #Bengaluru, #Bangalore, #Outing, #Hotel, #Spa